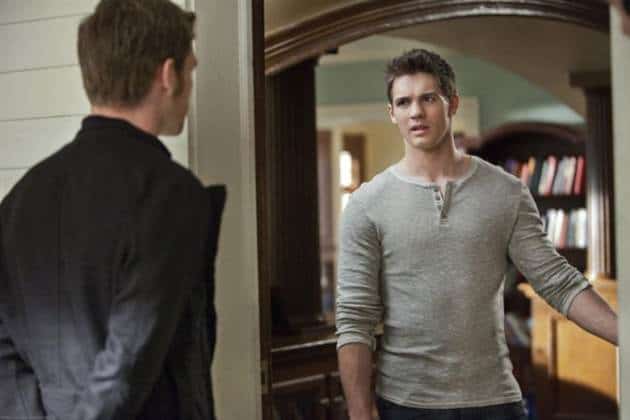 Warning: If you still haven't seen the season finale, please stop reading.
Julie Plec has been very busy giving several interviews lately. One of them was with TVLINE where she did not only talk about Season 4 of the Vampire Diaries, but also commented on Joseph's acting.
TVLINE | How did the cast react to the finale, especially given how much is changing for their characters?
They were very, very, very positive and supportive of the finale. So many of them found a beauty in what they felt like was returning to all the things they loved most about the show in the early episodes of the series. Stuff that was simple and pure and steeped in character and emotional. And they loved having Sara Canning back in their world.

TVLINE | What about Joseph Morgan? Have we seen the last of him?
No, we have not. It is as temporary as when he was inside Alaric's body.

TVLINE | So both of their vessels are OK should Klaus get out of the Tyler's body?
Yes. Desiccated Klaus is a little crispy right now, but he's probably salvageable.

TVLINE | It seemed for a little while there that Klaus was being written off. Why did you decide to bring him back in this way?
Rarely do you have a character that comes in [during] the middle of the series and just explodes and an actor that embodies him so well that people love to hate him and hate to love him. Joseph Morgan as Klaus is pretty special. Though we wanted our heroes to have a victory after all this time, we also realized that there's still so much more of Joseph Morgan as Klaus that we need to see on the show. We tried to make sure we got both the win for our heroes and the win for our show, which is still having Joseph a part of it.
Full article can be found here. Thanks to our friend Joseph Morgan Fan for the heads up.